Cash Money, Change, Excitement, and Fear of the Unknown Bitcoin.
When the US Government redesigned the $100 bill, Banks all over the world were set on by people with American Money.  They were seeking to change it to the new bills.  To an American, this is silly.  To people in other parts of the world, New money means the old money is (or will soon be) worthless.  This has a historical context.
Money and value change constantly, and throughout history we have seen many currencies come and go.  What of your Roman coins?  Payment in round pebbles or carved stones?  All were forms of currency that are no longer common or abandoned with the fall of the Empire.
Today we have seen the birth of a new form of money.  You can't feel it or carry it in your pocket.  Electronic Currency has arrived.  Conceptualized in a paper by the mysterious Satoshi Nakamoto, the creator of Bitcoin, the "gold Standard" of cryptocurrency.
Cryptocurrency, like any new form of money, has purpose.  Proponents say it is the "next generation" of money and financial transactions.  Since it is "peer to peer", and can be transferred person to person directly, without passing through a central clearinghouse or central bank.  Fees are low, and the transactions are immediate.  OF course, when easy transfer of funds is available, a certain "sketchy" element of society (money launderers? Drug kingpins? Arms Dealers?) finds it attractive.  Bitcoin achieved star status with Silk Road, a defunct website trafficking criminal materials and ungoverned commerce in prohibited (illegal) products.  The US Government acquired 25 million Bitcoins in the aftermath of the criminal investigation.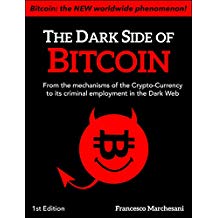 The Dark Side of Bitcoin: From the mechanisms of the Crypto-Currency to its criminal employment in the Dark Web – From Amazon books
Thus we see that Money is interleaved with governments, criminals, profiteers, history, and an underlying concern that your money may be worthless or converted to something else.  No wonder proponents of bitcoin have the zeal of missionaries, and enemies of it are passionately opposed and eager to see the Bitcoin "house of cards" come crashing down.  It is a fear that the current paper money might be as worthless as confederate dollars.
Bitcoin has survived almost four years.  I don't pretend to have a crystal ball, but instead of being afraid, I am going to enjoy the show.
Bitcoin Stickers – For Home, Car, Laptop, more!
 On Ebay
Consider these books on Bitcoin (from Amazon):
How to Start a Crypto Portfolio – Robert Leshner – Medium – Medium
Should your portfolio include bitcoin? Yes, but just a 2% position, says analyst – Marketwatch
Bitcoin: Mastering Bitcoin For Beginners: How You Can Make Insane Money Investing and Trading in Bitcoin (Bitcoin Mining, Bitcoin trading, Cryptocurrency, Blockchain, Wallet & Business)
Thanks for Reading my Blog on Bitcoin!