One thing is Guaranteed when you have Bitcoin;
Volatility!
Bitcoin is unregulated, without government or regulatory controls (except market forces, both normal and manipulated).  It is also a very young form of monetary commerce, so no long term-trends are available to track.
Bitcoin has had a perfect storm of troubles since it's precipitous high of almost $20,000 per BTC.  China and South Korea are trying to ban trading in Bitcoin;  it may destabilize their currency, and move money out of the country without government purview.  China is allegedly making their own coin (China planning the world's largest state-backed cryptocurrency).  Venezuela is also planning a state -backed Cryptocurrency, the "Petro".

Charlie Lee, who founded litecoin in 2011, said on Reddit Wednesday that he had "sold and donated" all of his litecoin tokens over the past few days — except for some physical ones he keeps as "collectibles." – CNBC

In case you have not noticed, the death of Bitcoin has been reported by major news articles 309 times.

With this volatility, regulation, state-run competition, and exposure to negative opinion, It's no wonder that Bitcoin is taking it on the chin. While some feel the need to kick Bitcoin while it is down, Many of the hedge funds have not sold any of their Bitcoin reserves, as many credible sources predict higher prices for Bitcoin in the near future.  They may even be buying more, as the next article states:

Bitcoin headed to $100,000 in 2018, says analyst who predicted last year's price rise
Personally, I am not selling off my Bitcoins.  I have been buying all the way down.  And I am going to join the Hodlers keeping their Bitcoin and waiting for the pendulum to swing the other way, maybe even with another meteoric price rise.
Bitcoin is not a large part of my holdings, so I am not "betting the farm".  But I am certain it will, as it has done in the past, have wild swings in valuation.
Many established finance people denigrate and even fear Bitcoin, because they don't understand it, don't see any regulation or protections, and worry it will siphon money from traditional investments in Forex towards Bitcoin.

Why the Big Banks Attacked Bitcoin
Bitcoin is 300 Times Cheaper Than Wire Transfers, Banks Take 83% Profit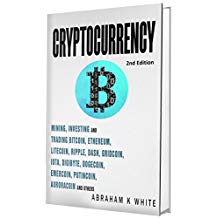 Cryptocurrency: Mining, Investing and Trading in Blockchain, including Bitcoin, Ethereum, Litecoin, Ripple, Dash, Dogecoin, Emercoin, Putincoin, Auroracoin and others (Fintech) [2nd Edition]

Crypto Success: Investing in Cryptocurrency for the Long Term – Tips and Tricks
For me, I am staying the course, strapped in and enjoying the wild ride.  For those who are jumping with glee over the death of Bitcoin, well, we are certainly not there yet.
Yours in Cryptocurrency,
Alan
If you enjoyed this blog, please feel free to share and send some bitcoin in appreciation to my Bitcoin Address:
15EzAW7wfyqHD8pj6hS1dUCaLeLxW8uMbn
If you need a Bitcoin wallet, try 
Coinbase
.